Winter holiday on the Plan de Corones
Cross-country skiing, sledging, ice skating, snow-shoe hiking and and and ...
Enjoy an unique and varied winter holiday on the Färberhof in Valdaora. The 2.275 m high Kronplatz (Plan de Corones), ski resort nr. 1 in South Tyrol, offers more then 116 km perfectly prepared slopes with reliable snow conditions. 32 modern cable cars and ski lifts serving up to 6,5 km long downhill runs makes sure everybody has great fun. Only 500 m from our house every 20 min. a Skibus takes you as a Färberhof guest and as owner of the Valdaora Winter Card charge-free to the less than 2 km distant lift facilities. Here you can use the ski depot, ski locker with built-in skiboot heater.

Cross-country skiing in Europs biggest cross-country skiing carousel Dolomiti NordicSki. More then 1300 km cross-country ski runs in South Tyrol. Only 500 m away from the Färberhof you can reach the sunny Valdaora cross-country ski run. Don't miss a visit to the 16 km distant Biathlon- and cross-country center of Anterselva, venue of the Biathlon World Championship in 2007.

Kronplatz/Plan de Corones, Dolomites
Holiday in the Dolomites/Valdaora implies also: sledging, ice skating, ski tours, snow-shoe hiking, walking on prepared paths, coach tours etc. etc. Enjoy this variety with the Valdaora Winter Card. Sledges will be provided by our house.

Valdaora Winter Card
As a guest of the holiday farm Färberhof, Valdaora, you will receive cost-free the Valdaora Winter Card. With this Card we offer a comprehensive variety of benefits for your mobility, recreation and activites. Just ask for it! This Valdaora Winter Card is included in the price of your stay and is exclusively for guests of member establishments of the Tourist Association of Valdaora.
Special offers & News
Kartoffel Self Service
Kartoffel Self Service Sie werfen das Geld in die Box am Färberhof ein und entnehmen sich Ihre Kartoffeln zu jeder Zeit.

Ab Ende Juli ist es wieder soweit und die neue Ernte ist abholbereit.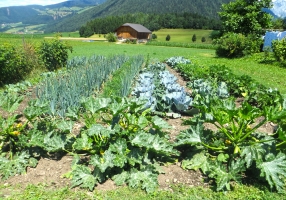 Frisches Gemüse
Je nach Jahreszeit: verschiedener Salat, Kraut, Zucchini, Bohnen, Karotten (auch im Winter), Spinat, Gurken, Zwiebel, Radieschen, sowie Kräuter aus unserem eigenen Hausgarten.
HolidayPass Olang
Der Pass ist exklusiv Gästen von Mitgliedsbetrieben des Tourismusvereins Olang vorbehalten und für Sie als unser Gast im Färberhof im Aufenthalt inbegriffen. Mit dieser Karte erhalten Sie ein umfassendes Mobilitäts-,Freizeit-und Aktivprogramm für Klein und Groß.
Neben der kostenlosen Nutzung der öffentlichen Verkehrsmittel in Südtirol, sowie dem Skibusdienst im Winter, ist im Holidaypass Olang das gesamte Wochenprogramm - Sommer und Winter - inkludiert: geführte Wanderungen und Radtouren, Brot backen, Kinderprogramm,und und und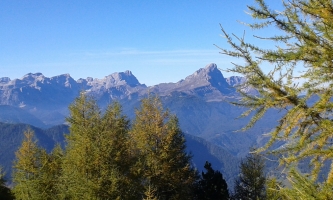 Goldener Herbst in den Dolomiten
Schnüren Sie Ihre Wanderschuhe und genießen Sie die Schönheit der Dolomiten.
Verbunden mit einem tollen Freizeit-und Aktivprogramm mit Ihrem ganz persönlichem kostenlosen Holidaypass Olang.
Vom 14.09.2019 bis 27.10.2019
Tolle Angebotwochen auf dem Färberhof